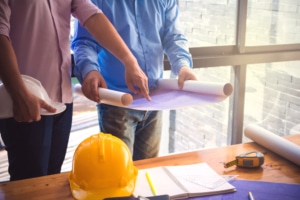 Tenant Improvements (TI), also known as Leasehold Improvements, are the custom interior build outs a landlord or tenant makes to their commercial space. This complicated construction project is integral to your business, so having a project management company like Pivotal Project Management on your side is important. We have the experience, resources, and most importantly, the time, to focus on your project and ensure its success. From the initial Tenant Improvement negotiations to construction management, a project manager will protect you from cost overruns and missed deadlines that can be costly to your business. We have listed the three most important reasons for hiring a project management company for Tenant Improvements below.
1.    Add an Experienced Negotiator to Your Team
Negotiating the allowance for Tenant Improvements is a key factor in any commercial lease. Having a key understanding of the commercial leasing market, construction costs, and construction management gives you the edge in negotiations. Adding Pivotal Project Management to your team brings years of commercial project management and construction cost control experience to your side of the table. We know how to create realistic budgets and schedules for construction projects and know how to leverage your position to get you the best lease terms.
2.    Team Composition and Strategy
Using a project manager like Pivotal Project Management will save you a considerable sum of money. It all starts by choosing the right team. When we manage a commercial buildout, evaluating and hiring the right tenant improvement contractor and architect can make a huge difference controlling costs. We will pre-qualify general contractors and architects, gather proposals, and create an evaluation criteria matrix to provide a clear answer to find the right partners. When your team is organized and all on the same page, the results are more favorable. Deadlines will be achieved, budgets will be met, and the move in process will be smoother.
3.    Control Costs with Construction Management
Another way a project manager like Pivotal Project Management will save your company money, and headaches, is through construction management. We are directly involved throughout your entire Tenant Improvement project providing the diligence and time needed (which most clients do not have) to ensure a successful build out. We hold the GC and subs accountable for quality construction and budgets, review and address all change orders, and conduct weekly site inspections and project meetings. The steps we take to control costs and manage construction will keep your Tenant Improvement project on time and on budget.
There are three project pillars that Pivotal Project Management follows throughout every phase of the Tenant Improvement project lifecycle. Review, assess, and improve. Having a project management company looking out for your best interests while managing your Tenant Improvements is incredibly valuable. Costly delays and change orders can quickly derail your timeline, creating lots of stress within the business, even impacting your customers. Pivotal Project Management is your key to a successful Tenant Improvement project.
If you or your client is making a move to new commercial space in the future, please contact a Pivotal Project Manager and get the conversation started.
https://pivotalstrength.com/wp-content/uploads/2019/08/Pivotal_PM_2.png
0
0
Connor Gilman
https://pivotalstrength.com/wp-content/uploads/2019/08/Pivotal_PM_2.png
Connor Gilman
2019-10-28 16:45:33
2021-05-11 20:20:15
Why Use a Project Management Company for Tenant Improvements?